TO DRINK IN COLD TEMPERATURE IS AS MUCH IMPORTANT AS IN SUMMER
An animal must have access at any time to fresh water, even in really cold temperatures during winter, both inside or outside. You can easily find on the market a choice of heated automatic waterers for horses, cows, cattle, and other livestock that perfectly meet this need.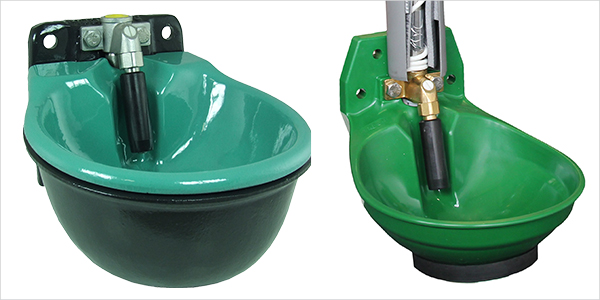 So why invest in a high-quality heated or frost-protected waterer?
Because it's advantageous in relation to the life of the product and you will quickly realize savings on your electricity bill. But above all, you will have bought a peace of mind.
Important criterias before buying an electric livestock heated waterer or anti-freeze trough:
A quality waterer for cold areas has to be efficient and effective, in terms of reliability, durability and energy saving. This is why it is strongly recommended to do good research for your heated waterer and to check what's important before purchasing:
The material: enamelled cast-iron and stainless steel are materials to prioritize. Double-wall polyethylene insulated with spray foam is also an excellent choice.
The quality of heating elements: make sure that the element works on 24 V to avoid stray voltage because this problem can prevent the animal from wanting to drink.
The quality of the tube valves: opt for a brass or stainless-steel valve as it does not rust. All other material may rust or create eventual problems.
The welds: on a stainless-steel waterer, check for the quality of welds. You can easily see a good quality weld from a sloppy one.
Spare parts accessibility: ask if spare parts are available. A company that changes often their products tend to keep spare parts for less time.
Manufacturer expertise: make sure of the manufacturer know-how and expertise. Do not hesitate to browse the website to learn more about their products.
Country of manufacture: for a better traceability, to have spare parts quickly and for a guarantee of quality.
The warranty: make sure of the manufacturer's warranty.
For example, the Suevia electrical livestock heated waterers are all equipped with a 24 V heating element. Starting off, it reduces the risks of stray voltage. And who says stray voltage says electrician costs who come to solve the problem at the farm.
Quality waterer with tube valve or float valve, heated trough or livestock water heater unit will also be less greedy in energy consumption.
In buildings that don't have electrical installations, Suevia offers a range of Isothermal and Thermo-Source frost-protected waterers that are very well insulated and prevents freezing, even at cold temperatures.
ISOTHERMAL TROUGH MODEL 6543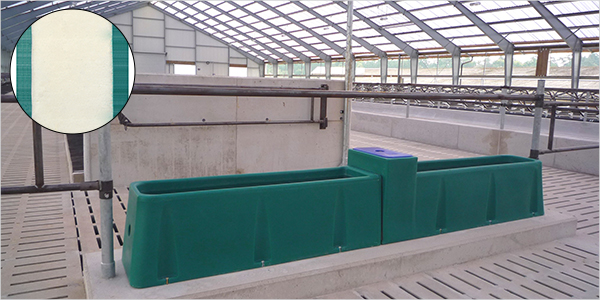 ATTENTION: Insulation for anti-freeze waterers must be made of spray polyurethane foam as it has a higher insulation value than other insulation products. It creates an airtight barrier and it's moisture resistant.
In short, take time to learn about the components of the product, availability of spare parts and warranty. What you want above all is a product that you will install and not worry about.